How do I design my kitchen?
When creating a kitchen, the use of marble is one of the most interesting choices that can be made..
Marble has always been used in the kitchen for its colour characteristics and its resistance to wear.
The great variety of colours, hues, and veining that make each slab differ from another, make a marble kitchen beautiful, elegant, and warm.
Marble can be used to make both classic and modern kitchens.
It is good to face one of the most common doubts and fears that can discourage those who intend to make a marble kitchen right from the beginning: the delicacy of the material.
Marble is definitely a natural material and therefore "alive", so it reacts to wear and time. But it is not delicate. Just a few precautions will be enough when using a marble kitchen… a simple reflection: how many places, grocery stores and historic butchers and kitchens, are made of marble? They were everywhere in our ancient cities. But no matter how "old" and used they are, they never lost their beauty!
In fact, their charm increases with time and use.
The same will happen with a marble kitchen. Time and wear will probably leave traces, but they will become part of its history, increasing its value and charm.
Once you have decided to use marble in your kitchen you need to choose the type of marble, which will determine its colour, the finish of the surfaces, and the elements to be made with this material.
In the new kitchen it will be possible to create the floors and walls, the countertop and sink, and other finishing and decorative elements. Everything can be done with the same material, but also by finding colour combinations between the various components.
Pietre di Rapolano technicians will perform the surveys, working drawings, and assembly of the plans.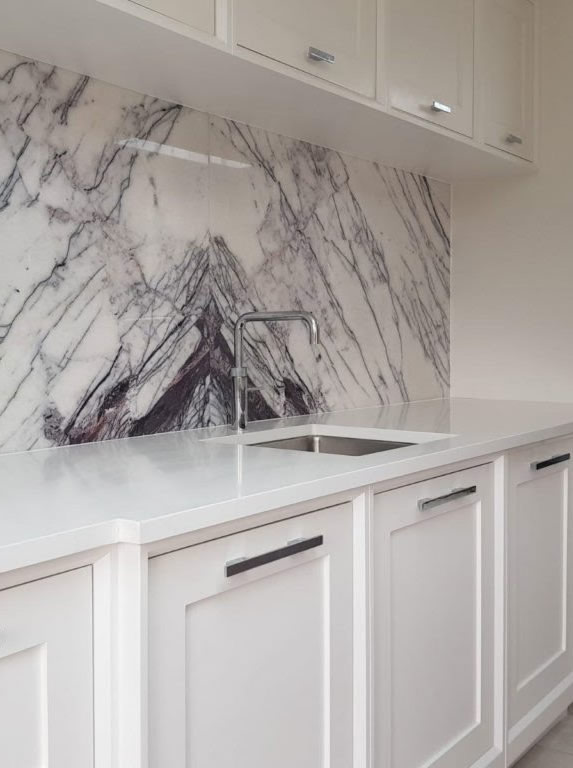 Catalogue
Consult our catalogue and discover all of our products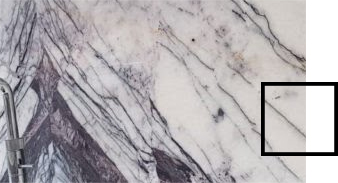 FLOORS AND WALLS
Marble floor and wall tiles for a kitchen can be either standard format or custom-sized to adapt perfectly to the surfaces of the specific kitchen.
Custom slabs are a bit more costly, while standard sized tiles are more economical, but they do not allow precise selection of the slab from which the work will be created.
Depending upon the customer's needs, the kitchen will be designed by optimising the cuts, sizes, and installation diagrams for the materials.
Obviously, our technicians will interpret the customer's instructions and tastes or will follow your architect's suggestions and directives for your new marble kitchen, contributing to the perfect final creation.
In addition to the choice of materials, another theme to reflect upon is the format of the pieces to be used. Sometimes it is nice to use very large slabs and sometimes even very small pieces, almost mosaics, will be chosen for the kitchen walls. We will study and come to an agreement with you on the expected result.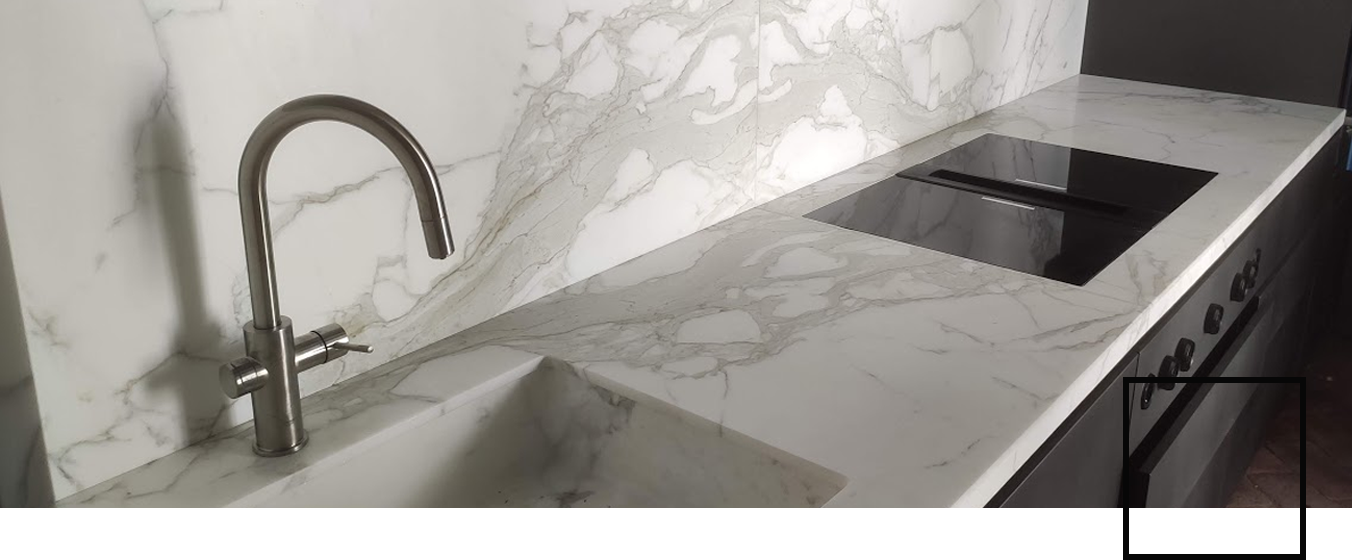 MARBLE KITCHEN COUNTERTOPS
The kitchen countertop is one of the most important elements of a kitchen.
It can be of the same colour and material as the floors and wall tiles, or it can be in contrast with them.
A classic colour contrast is black and white or grey and white.
White can be a simple Carrara White or even a more prized Calacatta.
Grey can be chosen from numerous types of marble: from Marquinia Black to Bardiglio.
Even Cardoso Stone, with its veined grey colours, works very well for a marble kitchen countertop.
Sometimes a kitchen can be created in which the veining corresponds in the horizontal and vertical surfaces, creating actual designs.
This must be designed form the beginning and the proper slabs chosen to create this type of final effect.
Once the required result has been established, we being to submit images of slabs that would work best with this process. Once the slab and type of drawing that we can obtain has been chosen, we will proceed with the cut.
In any case, before cutting the slabs, an accurate survey must be performed, which is often done by creating wood forms that exactly reproduce the measurements of the final surface.
The final working drawings are also prepared by Pietre di Rapolano technicians.
The last step, the assembly of the marble kitchen tops, is also carried out by us, at the customer's request.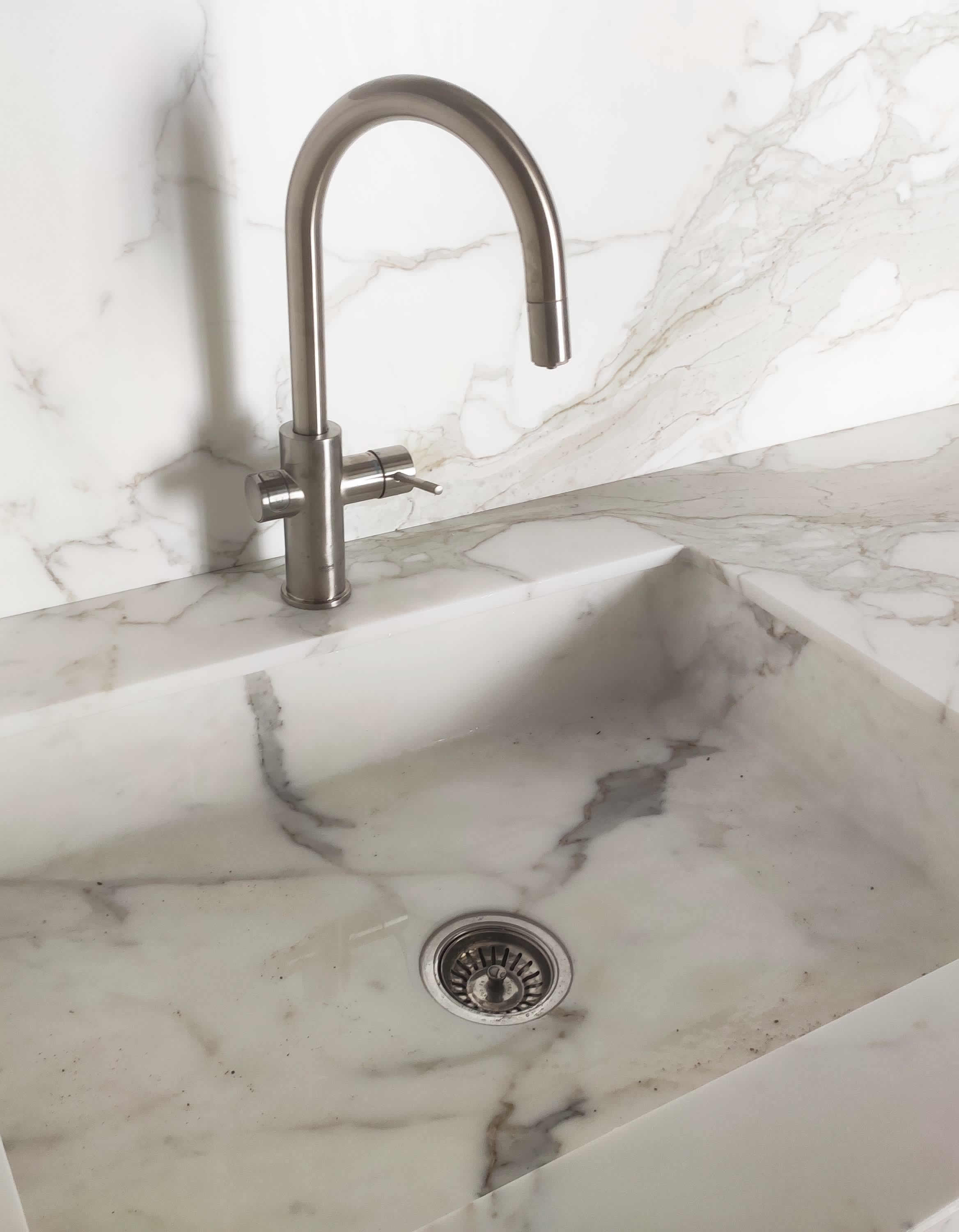 MARBLE KITCHEN SINKS
Another element that can contribute to the beauty and prestige of a new kitchen is the marble sink.
The perfect complement, to make a kitchen even more prestigious, is the marble washbasin. It can be solid, carving it out of a block of marble, or in assembled slabs.
The first solution is the most prestigious while the second, which is also attractive, is definitely less expensive.
In both cases, the kitchen sink will be made of the same material as the countertop and not in steel or one of the possible variants offered on the market.
A marble sink is created to last an eternity. In fact, like all other items made of natural material, it tends to become more beautiful with use and time.
Obviously, a steel sink marked by time, rusted, or dented by a blow, can only be replaced, while a marble sink is enhanced by the use, which will create its image, day after day.
This item also requires certain manufacturing and installation precautions in order to ensure unlimited use. Pietre di Rapolano technicians will implement during all phases, from cutting to final installation.
IDEAS FOR YOUR Marble kitchens