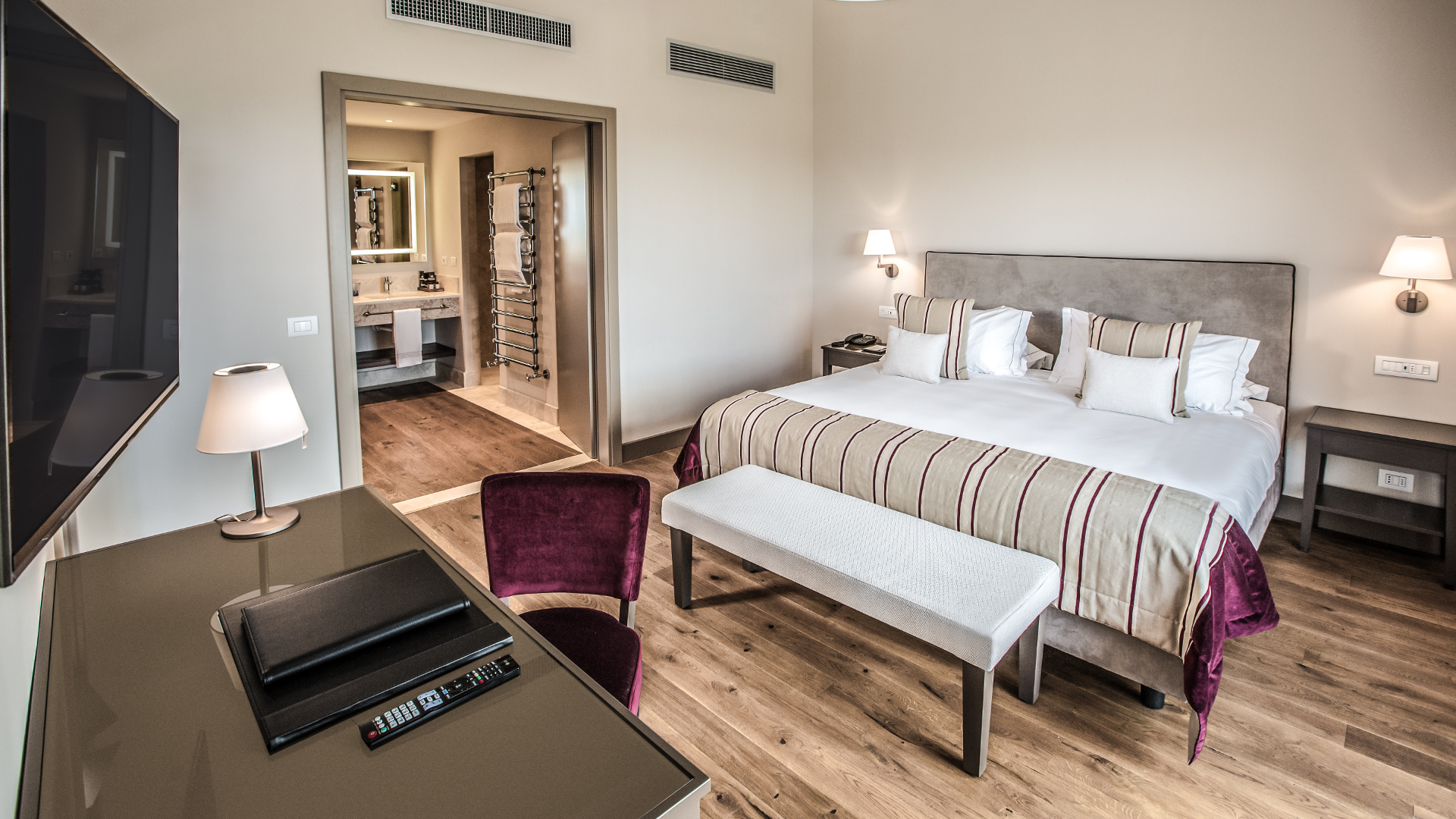 Various forms with the same soul
The tradition of a medieval village and the exclusivity of a luxury hotel
Castelfalfi is a medieval village in the Tuscan countryside that has been completely renovated, becoming a center for relaxation and recreation.
The overall intervention, now fully operational, consists of the village, some farmhouses and a newly built 5-star hotel. Everything revolves around a golf course of international prestige.
The restoration and transformation of the ancient village was designed by the architectural firm Melucci & Nardini Associati of Florence.
Pietre di Rapolano supplied stone materials for outdoor flooring, bathroom linings, kitchens and condominium stairs.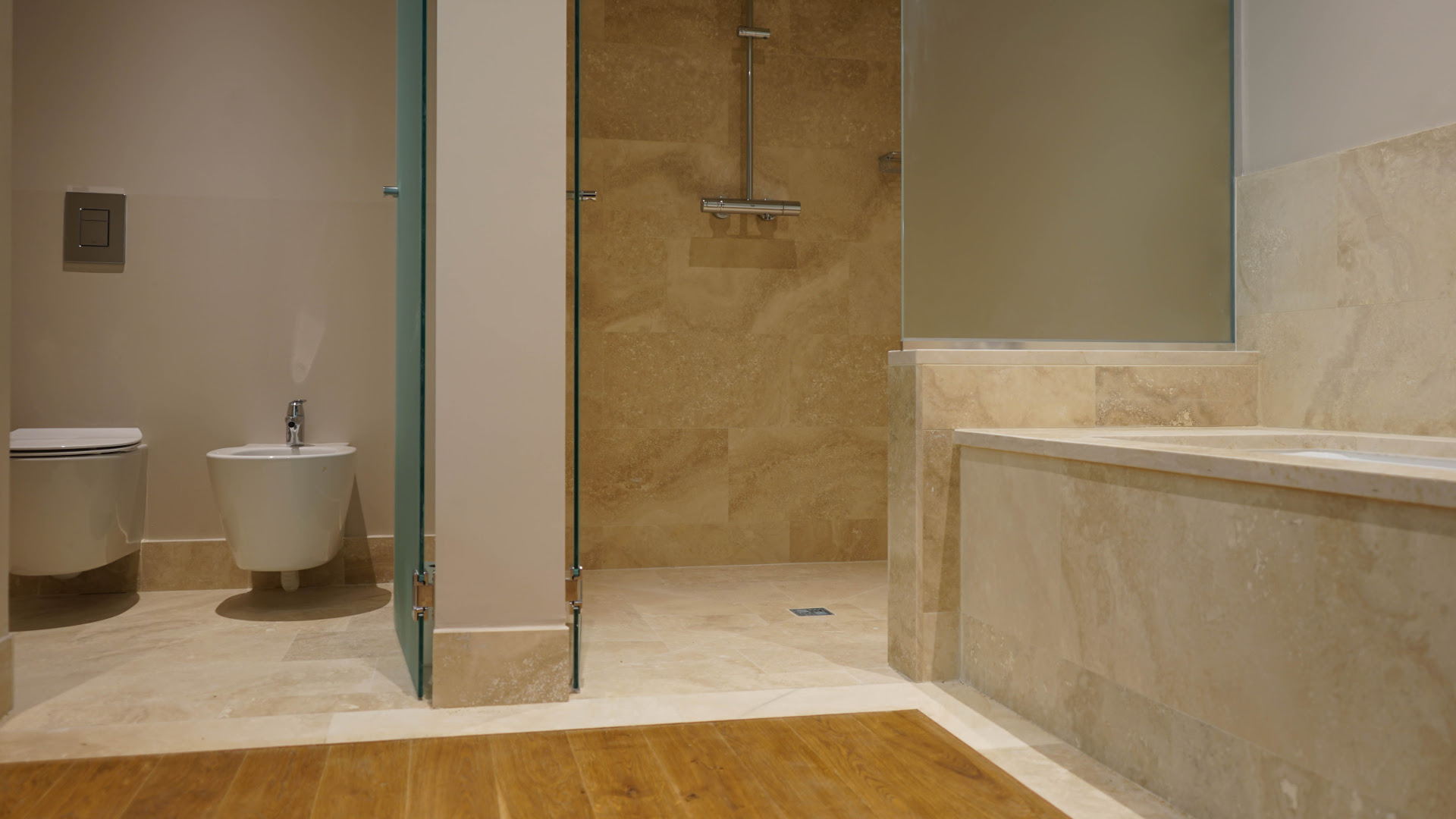 The travertine chosen
The travertine chosen, clear but with "nuvoltaure" characteristics, gives the rooms a sense of tradition and harmony.
It was a restoration intervention on buildings of ancient construction involving the need for accurate surveys on various environments, each one different from the other.
All the bathrooms were realized in travertine color selection Nebbia (code PDR036) in the stuccoed and polished finish; travertine tops of the same material, assembled off site, were created according to the specific project measurements required.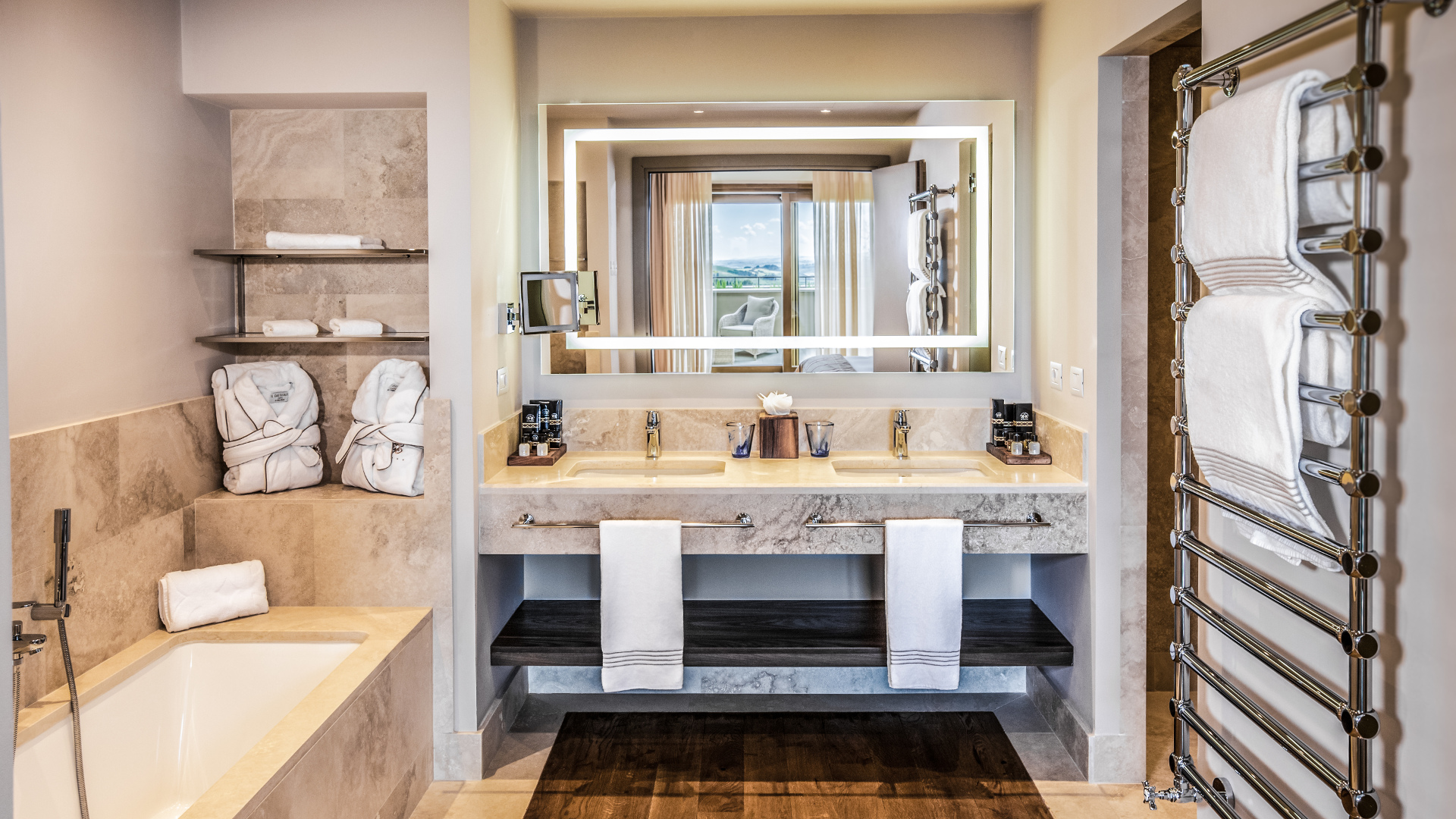 About two years after the completion of the village's restoration, work began on the construction of a new 5-star TUI BLUE SELECTION hotel, located nearby and immersed in an exclusive setting.
Comprising 120 rooms, a spa, a fitness center, a restaurant, a meeting room, and several outdoor and indoor pools, the structure occupies a total area of over 16,000 square meters. The rooms were designed by the architects studio MRM, with GPA engineering, and executed by the Inso company of Florence.
Following the design inspiration of the village, travertine in the Nebbia selection with a stuccoed and polished finish, was used in all of the bathrooms in various types of hotel rooms.
In each bathroom, in addition to the floors and wall coverings made with 30.5×61 size tiles and some special pieces, the shower trays and the washbasin tops were made to order, and for the rooms were space permitted, bathtubs were also specially designed.
To allow quick and easy assembly, without the shower installer having to make cuts for fit, the various pieces, cut to size, numbered and boxed, constituting the whole of the shower tray, were provided. A very accurate survey, executive drawings to the millimeter, and a laying in place that meticulously followed the assembly scheme allowed the completion of the work within the established deadlines.
The collaboration between our technicians and those of the building site, supported by our laboratories that manufactured the bespoke products one by one, allowed us to deliver the finished work within the client's time requirements.
other photos of the project